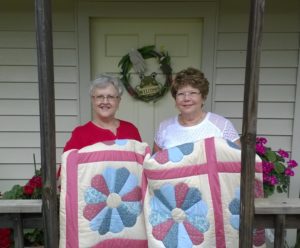 We met years ago through the friendships of our children and living in the same neighborhood.  We became very close when we both were adopted by the "Cousins" group of friends. We have enjoyed many hours of fun and fellowship with these ladies including traveling, going out to eat and playing games together. We also enjoy, and are blessed to belong to, the same quilting group, "Pleasant Quilters."
The compilation of this book, "Patterns of Life", has been a great adventure. We found people interested in preserving their culture, history, home remedies and recipes.  The book includes pictures, stories worth reading, recipes worth trying and it honors the past, a way of life worth preserving.  Writing the book together has strengthened our friendship and brought us closer together.  Memories of this journey will live on in our hearts and minds forever.
Libby
After retiring from thirty-two years in the Henry County Juvenile & Domestic Relations District Court, I was ready to explore new adventures. I love to travel and meet new people. I am a quilter, active in my church, enjoy crafts, and spending time with my family are just some of my favorite pastimes.  I am involved in helping to develop a barn quilt trail in Franklin County, VA where I reside.  Betty Skeens and I wrote a book together, Grazing Along the Crooked Road that was published in 2008.
After the death of my friend, Betty, and eight years later, I found myself ready to write another book. I have been blessed to write Patterns of Life, Common Threads That Bind Us All Together, with my good friend Elaine Plaster. My husband, Dickey and I have a son and a daughter and four beautiful grandchildren that they are very proud of.
Elaine
After years spent being a wife and stay at home mother, I took my place in the workforce.  I worked at Patrick Henry Community College in Martinsville, VA for sixteen years.  After losing my husband to cancer in 1998, a teaching position at Ferrum College, in Ferrum, VA, caught my attention.  I taught there for thirteen years, retiring in 2012. I began looking for adventures.  Since then, many have come my way. However, the most exciting has been working with Libby Bondurant in the creation of this book.  I am blessed with the opportunity given me by Libby, the support of three wonderful sons and the pleasure of having three amazing grandchildren.  My desire is that you enjoy every story, poem and picture in this book.  It has been put together with a lot of time, energy and love.  ENJOY!!